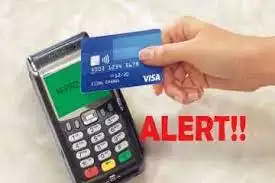 When using debit or credit cards, it is important for users to remain vigilant. Many banks now offer Wi-Fi or contactless cards to their clients, which do not require swiping or PIN entry for payment at a POS machine.

It is becoming increasingly common for popular establishments such as burger or coffee shops to accept these contactless cards, which may come as a surprise to some. These types of cards are enabled with a CHIP radio frequency antenna and can be used globally.
They are capable of connecting to Bluetooth or Wi-Fi and can interact with other NFC-enabled objects within a range of 4 centimeters, making payment without swiping possible. While these cards utilize cutting-edge technology, they also come with their own set of risks and benefits.
Experts have warned of several fraud-related risks associated with these types of cards. There is a chance of loss, theft, or misplacement, which could result in fraudulent transactions through illegal NFC (near field communication) and RFID (radio frequency identification) usage.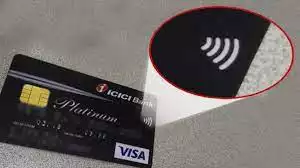 A Wi-Fi or contactless card is a payment card that is gaining popularity in several countries, including India. These cards are designed to reduce the time spent at the cash register by eliminating the need for swiping or inserting a card, entering a PIN, or making any physical contact.
However, these cards also come with some risks. As Wi-Fi signals are freely generated, unauthorized POS machines or other devices may activate, leading to automatic fraudulent payments. In case of loss or misplacement, the card may fall into the wrong hands, and unauthorized transactions may be made up to a maximum of Rs. 5000/-.
To use a contactless debit card, follow these simple steps:
Step 1: Look for the contactless (Wi-Fi) logo at the POS machine.
Step 2: Allow the cashier to enter the purchase amount into the terminal, which will be reflected on the contactless reader.
Step 3: Hold your card close to the reader or POS, making sure to align it with the contactless logo.
Step 4: The transaction is complete when you hear a beep sound or see a green indicator light, and a message appears on the screen confirming the transaction.
            FREQUENTLY ASKED QUESTIONS
1) What are the 2 types of commonly used cards?
Ans: The 2 common types of cards are debit and credit cards.
2) What is Wi-Fi debit or credit cards?
Ans: Wi-Fi debit or credit cards are cards which have a Wi-Fi symbol on them
3) How do they function?
Ans: Contact-less Wi-Fi cards are a radio frequency card enabled with CHIP radio frequency antenna embedded in it. This chip contains all the vital coded information of the card which is then scanned, and electronic cash trAns: fer takes place easily.
4) What are their advantages?
Ans: These cards have a lot of advantages like
i) They save you time at the cash counter if you are in a hurry
ii) You need not remember information regarding your card like PIN and other stuff
iii) You do not need to insert or swipe your card. Just placing it close enough to the scanner will do the required job.
5)What are their disadvantages?
Ans: These cards can be scanned by fraudsters holding a POS machine in their hands. They can bring their machines close enough to the card by taking advantage of crowded locations.
6) What sort of frauds is possible using POS machines?
Ans: Fraudsters or scammers can take advantage of crowds in public by bringing any unauthorized POS machine close enough to your Wi-Fi card. This will automatically trigger the payment of money electronically from your bank account to their account.
7) How to guard against them?
Ans: The Wi-Fi cards can be spared from detection by any unauthorized POS machine by placing these cards in special cardholders which use block RFID blocking. This in turn ensures that no one can steal your money using any unauthorized POS machine.
8) What is RFID blocking?
Ans: RFID stands for Radio Frequency Identification. RFID blocking can be done by many ways, though all are not foolproof.
9) How can I protect myself using RFID credit card protector from being scanned in crowded areas using Anti RFID protection card cases?
Ans: RFID credit card protector cases block your card from being detected when it comes in proximity to any unauthorized POS machine carried by scammers.
10) What are RFID wallets?
Ans: RFID wallet cases are mostly made out of genuine high-quality leather. These leather wallets for men block RFID signals. These are usually slim wallets which ensure that your pocket is not burdened for space. Similar credit card protectors eventually ensure the safety of your card which holds the key to your money.
11) Where can you buy RFID blocking wallets?
Ans: You can buy RFID card wallet cases from any e-commerce website like Amazon and Flipkart, THE HEDAYAT and many more sites.
12) What are the unique features of the RFID purses we provide you with?
Ans: The RFID designer wallets or purses on leading e-commerce websites come with unique features such as they come in various colors mostly brown and black, are made by reputed manufacturing companies around the world, can hold many number of Wi-Fi cards, are perfectly sized to fit into your pant pockets and aesthetic in appearance. RFID men's cardholders protect these cards from being detected as they are RFID proof.
13) Are RFID men's and women's cardholders or wallets really necessary?
Ans: RFID cardholder wallets are a basic need for any person, given the frequent use of Wi-Fi cards lately.
14) How to check whether RFID bi-fold wallets for men really work, that is whether they are genuine or not?
Ans: RFID activity can be blocked using a number of ways. One of them is to wrap an aluminum foil around these Wi-Fi cards or inserting these foils in wallets which carry your card. This does not ensure card data protection in all situations. Another method is to insert the card into a blocking sleeve. This method ensures complete protection of your card. The best method of protection of the card from being scanned is done by using RFID purses for men. This ensures complete protection of the Wi-Fi card. RFID men's cardholders blocking cards can also be used. So, in short RFID front pocket wallets and blocking cards are the best ways to protect your card data from being stolen.
15) What is Wi-Fi debit cards limit without pin?
Ans: The electronic cash limit of these Wi-Fi cards without PIN in India as Rs 5000 for a single trAns: action.
16) Can we use Wi-Fi credit card safely?
Ans: Yes, provided they are kept in anti RFID wallets.
17) Do people generally use cards for shopping?
Ans: Nowadays, most of the people use Wi-Fi cards for shopping.
18) What sort of technology do these cards use?
Ans: These Wi-Fi cards operate on RFID technology
19) How can people use these cards?
Ans: These cards can be used by people for any sort of electronic trAns: action by scanning the card. They are mainly used for shopping purposes.

UNIQUE WALLETS AVAILABLE ON MY SITE THAT IS thehedayat-store.com

1) Why should you buy anti RFID men's leather wallets from thehedayat-store.com?
Ans: The website called thehedayat-store.com contain many kinds of wallets which are RFID protected and made from premium quality leather and also economically priced.
2) The difference between RFID wallets from thehedayat-store.com and other websites.
Ans: The website called thehedayat-store.com provide you credit card protector wallets which are handmade and handcrafted.
3) How do RFID purses on thehedayat-store.com stand out?
Ans: RFID blocking wallets available on thehedayat-store.com make wallets using genuine quality leather which is unavailable on all other e-commerce sites.